The Monthly Nature-Based Subscription Box Helps Both Parents and Children Get the Most Out of The Early Learning Experience
(PRUnderground) September 7th, 2021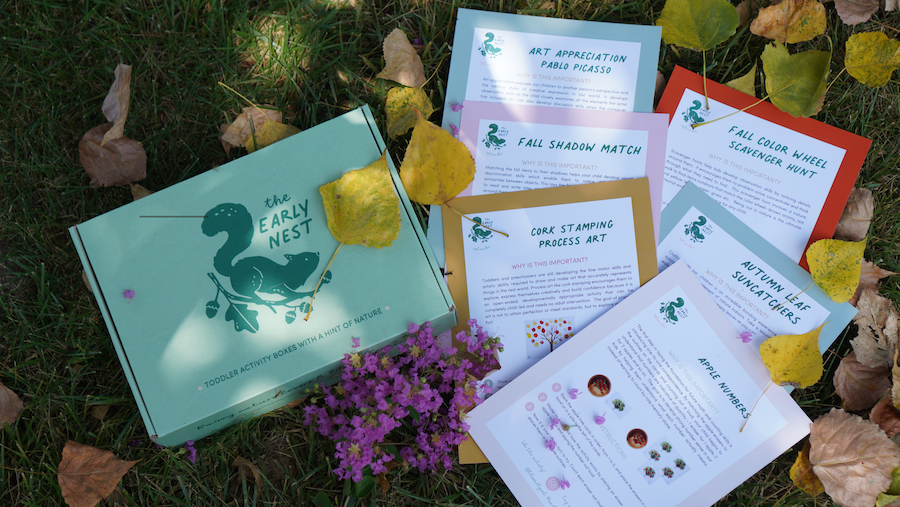 Over the past year and a half, parents and children around the world have struggled as the world transitioned to homeschooling and parent-led learning. Exhausted parents have gotten frustrated with burnout and children have been placed in front of devices or stuck with busy work that does not keep them engaged or interested in learning. Determined to lend a helping hand to other overwhelmed parents across the nation, Meg Raj created The Early Nest, a monthly developmental and nature-based holistic learning subscription box designed to empower parents and engage children.
As an immigrant from India with little family in the States, Meg  struggled with feeling isolated and burnt out raising and educating two children under two amid the global pandemic. Passionate about early childhood development, she knew that with the right tools and learning structure, she could encourage and inspire children everywhere, while giving parents a therapeutic break from the pressure. This passion along with the desire to lend a holistic helping hand resulted in the creation of The Early Nest. 
The monthly subscription box focuses on holistic child-led learning and leverages nature-based activities inspired by her family's journey with Montessori and Forest School to keep toddlers meaningfully engaged, rather than mindlessly busy. Including both indoor and outdoor activities, along with art activities with easy-to-follow instructions, The Early Nest encourages both parents and children to explore nature for a well-rounded approach to childhood development.
"The battle between our strong desire to offer our kids enriching activities yet the exhaustion of parenthood that prevents us from doing so can be overwhelming. I vowed to offer whatever help I could to other parents and caregivers with the extensive knowledge of early childhood development I have acquired over the years."
Through proof of concept, dedication to holistic learning, and an unwavering commitment to helping empower both children and parents across the nation; Meg's purpose-driven vision has come to fruition with The Early Nest subscription box. 
To learn more about The Early Nest, please visit: www.theearlynest.com 
About The Early Nest
The Early Nest is a monthly subscription box providing developmental and nature-based activities designed to keep toddlers and preschoolers meaningfully engaged and busy parents well-supported. Founded by Meg Raj in 2021, The Early Nest grew from Meg's struggles of navigating life with her littles amid the pandemic. Eager to find a holistic solution for early learning that supports both parents and children, she curated The Early Nest, inspired by her family's experience with Montessori and Forest School. The Early Nest includes all materials and instructions for enriching indoor and outdoor child-led activities to keep children engaged rather than just "busy", and provide parents and caregivers of littles a much-needed break.
The post Engaged and Empowered: How The Early Nest's Holistic Child-Led Learning Format is Revolutionizing Home Schooling first appeared on PRUnderground.
Press Contact
Name: Meg Raj

Phone: 6157459736

Email: Contact Us

Website: https://theearlynest.com/
Original Press Release.