Looking to Take Advantage of Massive Infrastructure Spending?
August 16, 2021 at 12:11 PM EDT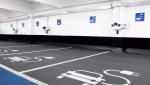 The current infrastructure bill stands to greatly benefit the increased use of clean energy and electric vehicles, boding well for a pair of Global X ETFs. "The Senate's bipartisan bill would direct almost $90B of new federal spending to clean technologies and infrastructure supportive of a...