How Does New Budget Proposal Affect Clean Energy ETFs?
July 15, 2021 at 15:25 PM EDT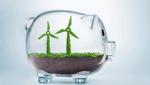 Renewable energy exchange traded funds, including the ALPS Clean Energy ETF (ACES), could soon re-enter the limelight thanks to the familiar catalyst of domestic politics. Earlier this week, Senate Democrats reached a $3.5 trillion budget resolution that provides for much of President Biden's...