Are Investors Developing an Appetite for Gold Once More?
June 21, 2021 at 09:17 AM EDT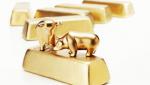 While Fed officials are keeping rates steady for now, the pressures of inflation and the potential for rising rates are keeping metals investors on their toes. "As expected, the policymaking Federal Open Market Committee unanimously left its benchmark short-term borrowing rate anchored near...