ETF Edge: Gold No Longer Greatest Inflation Hedge?
June 02, 2021 at 17:18 PM EDT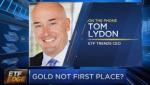 As the great debate over inflation rages on, commodity prices have surged. With that in mind, one precious metal seems to be sitting out on this major melt-up. CNBC's Seema Mody sat in as host on "ETF Edge" to discuss the state of gold with ETF Trends CEO Tom Lydon. Lydon makes a...