Why Are Insurance Companies Getting Into ETFs?
June 01, 2021 at 05:30 AM EDT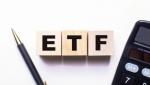 Insurance companies were big fans of fixed income ETFs in 2020, according to a CFRA "Funds in Focus" report. Fixed income ETFs got a helping hand in 2020 during the height of the pandemic. To shore up the bond markets, the Federal Reserve stepped in to help prevent credit defaults. The...