Which Sectors Are Seeing the Most Job Growth?
May 26, 2021 at 10:37 AM EDT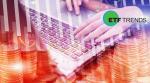 Service-providing industries, including IT, management, and healthcare, have seen the biggest job growth in recent years, even during the COVID-19 pandemic, finds new research from ERShares. In a new white paper, "Entrepreneurial Companies Create More Jobs," the authors investigate which industries...