Can ACES Capitalize on the Energy Sector's 'New Normal'?
May 19, 2021 at 14:29 PM EDT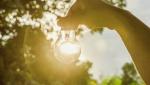 The complexion of the world's energy mix is changing. Doors are opening for renewables, while many power providers are tiring of dirty sources like coal. An array of exchange traded funds, including the ALPS Clean Energy ETF (ACES), provide exposure to the new normal in the energy realm....