Can This ETF Hedge Against Rising Inflation?
May 12, 2021 at 16:11 PM EDT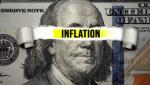 Both stocks and bonds are tumbling on Wednesday amid spiking consumer inflation data for April that has frightened investors, heightening concerns that the Fed could be mistaken about the U.S experiencing only an ephemeral climb in the prices of goods. If the Fed is incorrect about inflation, it...