What Can Your Portfolio Learn from Chinese Tech?
February 18, 2021 at 13:37 PM EST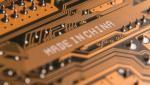 A Brookings Institute article recently highlighted how the U.S. can take cues from China in order to advance their technological competitiveness. In the meantime, a pair of powerful China ETFs to consider are the VanEck Vectors China Growth Leaders ETF (GLCN) and the VanEck Vectors ChinaAMC...