Bitmar provides a comprehensive roadmap for Christian guys who struggle in dating and romance.
(PRUnderground) February 9th, 2021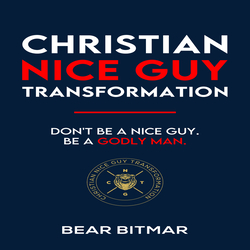 Author Bear Bitmar shares his dating experiences, lessons learned, and inherited wisdom and advice from godly, Christian men in his new book, "Christian Nice Guy Transformation."
In his book, Bitmar provides a biblical, Gospel-centered approach to dating and personal development. The author aims to help "Christian Nice Guys" transform into "Godly Men" who also accomplish their romantic relationship goals.
Bitmar's book explains what a Christian Nice Guy is and explores why the notion is problematic. He takes it further by showing his readers how to become better, godlier men. He equips readers with wisdom and practical advice so that they can date more effectively and avoid common pitfalls that many Christian men experience.
"I want to help and encourage Christian Nice Guys transform into godlier men who succeed in dating and romance," stated Bitmar.
"Christian Nice Guy Transformation" provides readers with the foundational mindsets and practical wisdom that will prepare them for dating success that is Gospel-centered and grounded in Scripture. As Jesus Christ is the foundation and inspiration of this book, the author encourages his readers to pursue greater Christlikeness and become the best version of themselves.
Bitmar understands Christian dating challenges and hopes that other single Christian men will benefit from his insights.
"For many years, I struggled in my dating life. I was never that guy who attractive Christian women were drawn to. I constantly found myself in the dreaded Friend Zone, and I didn't know how to get out of it. I couldn't figure out what I was doing wrong. I consistently failed to romantically attract the Christian women that I was most romantically attracted to. And I've experienced my fair share of awkward rejections and missteps. But God is gracious, I learned from mature, godly men and my own dating experiences, I gained a lot of wisdom and insight, and I finally decided to put it all in writing," Bitmar further added.
Bitmar feels that God has placed a burden on his heart, urging him to address the desperate need for a dating advice resource tailor-made to equip and encourage his brothers who struggle with dating.
"Christian Nice Guy Transformation" is Bitmar's fresh, Bible-based approach to dating that every Christian will appreciate and learn from. More information can be found at https://www.christianniceguytransformation.com/.
About Christian Nice Guy Transformation
Bear Bitmar's new book, "Christian Nice Guy Transformation," focuses on helping single Christian men become the best they can be and achieve success in dating and romance.
The post Author Bear Bitmar Releases New Dating Advice Book, "Christian Nice Guy Transformation" first appeared on PRUnderground.
Press Contact
Name: Bear Bitmar

Phone: 1-858-523-8203

Email: Contact Us
Original Press Release.