The ACES ETF Grew By Over 130% in 2020. What's Next?
December 30, 2020 at 09:18 AM EST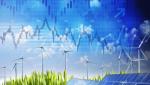 Up a staggering 134.63% in 2020, the the ALPS Clean Energy ETF (ACES) is easily one of this year's best-performing non-leveraged exchange traded funds. For investors that missed this year's move by ACES, many market observers believe there's more coming in 2021. ACES follows...