Up Over 20% in 1 Week, Bitcoin Is Soaring. Can It Last?
December 17, 2020 at 09:20 AM EST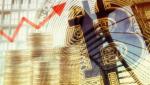 Bitcoin is on a jaw-dropping ascent, one that places it among the year's best-performing assets. For the seven days ending Dec. 16, the dominant digital currency is higher by 21.40% and after recently breaking through $20,000, Bitcoin traded over $21,600 on Wednesday evening. It's not...