Organic vs. Acquired Growth: Which Does Your ETF Deliver?
November 23, 2020 at 10:07 AM EST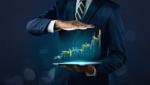 For years, the the preferred avenue to engineer growth was to acquire others and bloat balance sheets in the process. But as markets change, organic growth is becoming more important. The Entrepreneur 30 Fund (NYSEArca: ENTR) is an example of an exchange traded fund investors can use to tap into...