Could Apple's New iPhone Help Boost 5G ETFs?
October 12, 2020 at 16:16 PM EDT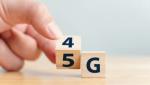 With the tech giant rallying sharply Monday, tomorrow iPhone-maker Apple is anticipated to release its first 5G ready iPhone models. Despite the trend to however, there are some concerns as to whether consumers will actually be able to even take advantage of the revolutionary technology, and how it...