Should Investors Wait to Add Gold Until After the Election?
October 07, 2020 at 11:21 AM EDT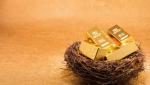 It took one tweet from U.S. President Donald Trump to pump the brakes on bullish gold investors. With the prospect of more stimulus measures stopped in its tracks, investors may have to wait until after the forthcoming presidential election before purchasing gold. "In one fell swoop, the U.S....