Is Satellite Cloud Computing the Next Frontier?
September 14, 2020 at 13:44 PM EDT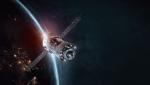 Amid Covid-19 and a heavier reliance on technology, cloud computing has proven its mettle. Now, the world could be witnessing the next frontier in the cloud computing space via satellite usage, which could pit two tech giants head to head. According to a CNBC report, "Microsoft is looking to...