As Silver Takes a Breather, Where Does it Go From Here?
June 03, 2020 at 11:13 AM EDT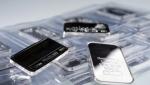 More investors are looking forward to the economy reopening as the Dow Jones Industrial Average saw another positive day of gains during Tuesday's trading session. This, of course, kept safe haven precious metals at bay like silver, but as prices of the commodity took a breather, it makes traders...