Could This Ratio Suggest It's Time To Buy Silver and Silver ETFs?
March 19, 2020 at 15:04 PM EDT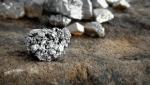 While gold has been selling off precipitous over the last month as investors seek to liquidate anything they can to cover mounting stock losses, one thing that has been moving higher is the gold-silver ratio. For savvy investors, the gold-to-silver ratio is one of a variety of indicators utilized...