Why Are Gold And Associated ETFs Selling Off?
February 28, 2020 at 15:42 PM EST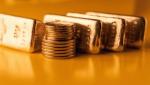 Gold markets and gold ETFs are down more than 3% today as investors scramble to pull funds from a plethora of markets, to cover mounting losses in stocks, as fear of the coronavirus contagion grips the globe. Along with the selloff in the stock markets, gold prices have seen heavy selling pressure...