Are Gold, Gold ETFs A Good Bet In 2020?
February 17, 2020 at 06:00 AM EST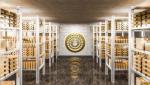 While gold has climbed 4% so far this year already, as gold prices reached their loftiest level since April 2013 early last month, since the start of February things have been more subdued. After finishing January near its highs, gold sold off nearly $40 an ounce, and has been trading sideways...