Can the "Phase One" Trade Deal Propel U.S. Equities in 2020?
December 13, 2019 at 10:38 AM EST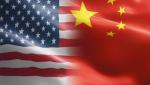 U.S. equities were lifted on Thursday thanks to a "phase one" trade deal agreed to in principle between the U.S. and China after it looked like trade talks could be prolonged and even stretch through 2020. Looking forward, can this "phase one" deal continue to propel U.S. equities through the new...