Why Aren't Wirehouse Advisors Allocating More to Passive?
October 07, 2019 at 17:52 PM EDT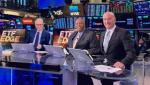 During CNBC's ETF Edge on Monday, host Bob Pisani discussed a Wall Street Journal article citing a study showing brokers at four major Wall Street firms have just 29% of their clients' managed-fund assets in passive index funds. This is well below the 45% passive rate for independent...