Getting children to take their vitamins can be challenging at times. While candy-like vitamins do exist they are nearly all packed with sugar. Wellvites has come to the rescue with their brand new delicious gummies that are both sugar free and don't contain artificial sweeteners, a winning healthy vegan multivitamin for kids. Families couldn't be happier.
(PRUnderground) June 19th, 2019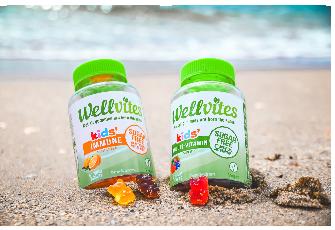 The importance of taking daily vitamins is universally agreed on, especially when it comes to young and growing children. But the hard truth is multivitamins in tablet or capsule form are just not something many kids enjoy (understandably) and some children will spit them out or just straight up refuse to take them. Wellvites is a new vitamin and supplement brand who are going out of their way to prove, without any doubt, that "not all gummies are born the same", surprising the world with the release of their great tasting, sugar free multivitamin for kids. Needless to say, the positive energy surrounding Wellvites Multivitamin Gummies is high.
"We are super excited and proud that after two years of development, parents don't need to choose anymore between giving essential vitamins to their kids with the cost and the harm of high sugar and artificial sweeteners," commented Alon Lubezky, CEO of Wellvites. "We developed this brand out of our personal goal, to provide our kids with a healthy multivitamin without the downside of the sugar or artificial sweeteners. Don't forget when kids get a real taste for sugar at an early age it can become much more challenging to maintain good health as they get older."
Currently, Wellvites come in two different versions, the multivitamins for kids which cost $18.99 for a months supply, or the Wellvites Immune gummies which cost $15.99 for a month of healthy gummy fun.
All Wellvites Gummies are non-GMO, no gelatin, no dairy, no gluten or wheat, no peanuts, and egg free. They are totally vegan and not don't have any of the most common allergic food products mixed in with them. Just health, well-being, and a great taste all the way.
The Wellvites brand works hard to stay connected with their valued customers delivering both fun and healthy recipes on their official website as well as interacting with shoppers across all of the major social media platforms.
The feedback from customers has been passionate.
John, recently said in a five-star Amazon review, "Vegan and Kosher! I am vegan and also keep kosher, but my kids don't. I won't lie, I eat most of the gummies myself… the biggest problem with the Wellvites gummies is that the serving size is only 2 and I usually have more and so do my kids!"
For more information or to order be sure to visit https://www.wellvites.com.
About Wellvites
When the husband and wife team behind Wellvites had their second child they looked everywhere for vitamin gummies with no sugar & no artificial sweeteners (which are even worse for kids), but couldn't find any. So they did what they could as concerned parents: Set out to create great tasting, healthy vitamin gummies with no sugar & no artificial sweeteners.
After two years of development with top food and nutrition experts, they created something which to be extremely proud of. Wellvites – Gummies that children love, taste amazing, contain no sugar and no artificial sweeteners. Wellvites help kids thrive and be healthy. What could be better?
Press Contact
Name: Laura Wills

Phone: 561.939.4907

Email: info@wellvites.com

Website: https://www.wellvites.com
Original Press Release.