Doomed to Repeat the Tech Bubble?
March 18, 2019 at 11:21 AM EDT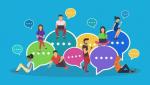 By Richard Bernstein Advisors We recently received an email inviting us to a webinar titled How to Position Portfolios for the "New Economy". Anyone who lived through the late-1990s Tech Bubble is probably now cringing. It's hard to believe that the Tech Bubble burst 19 years ago (NASDAQ's bubble...