With Lyft, Acuity Link is the first NEMT logistics management provider to offer services to health care institutions that span all levels of care, from critical care, ALS, BLS, wheelchair and ambulatory
Yarmouth Port, MA (PRUnderground) March 29th, 2018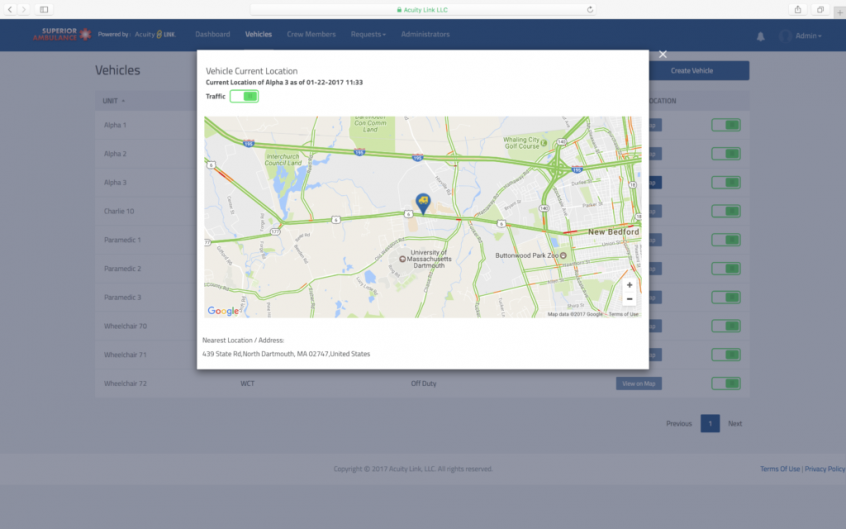 Non-emergency medical transportation systems (NEMT) for hospitals and other medical care providers are expected to run more efficiently and provide expanded service options to patients thanks to a new partnership between Acuity Link and Lyft, the fastest growing rideshare company in the U.S.
As part of the partnership, Acuity Link's HIPAA-compliant NEMT logistic management dashboard will now support Lyft's ride-hailing functionality. With the added capability of Lyft, Acuity Link's software is now one of the nation's leading all-inclusive NEMT platform for, all levels of care and modes of transportation, ranging from critical care ambulance transport to ambulatory patient transit – with Lyft as the final link to provide health care providers with ambulatory transportation solutions.
Patients being discharged from any health care provider who do not need special transportation accommodations will have the option to be discharged through the new service. Additionally, the integration of Lyft's ridesharing network into the Acuity Link platform will allow medical care providers in any health care setting to schedule one-time or recurring non-emergency transportation for inbound or outbound patients.
By integrating Lyft into Acuity Link's existing software, hospital and health care institutions staff or discharge clinicians can quickly and easily arrange medical transportation that meets the needs of these patients.
"Prior to Acuity Link, many ambulatory patient transports were performed through a taxi voucher system, which historically has been poorly serviced, inefficient, non-transparent and costly to all stakeholders," said Alex Theoharidis, CEO of Acuity Link. "By adding Lyft ride share services to Acuity Link's platform, we have become a true one-stop shop for non-emergency medical transportation, providing managed logistics for all modes of transportation into any health care setting."
The combination of Lyft's services into Acuity Link's platform presents a versatile transportation software solution for medical care providers and is the most recent example of the digital revolution within the health care industry.
"Through our partnership with Acuity Link, we're able to create a seamless option for medical providers to request affordable rides more quickly and efficiently for their facilities," said Gyre Renwick, VP of Lyft Business. "Together, Lyft and Acuity Link are providing an innovative solution to manage all levels of care. Because of this joint effort, we're able to reach even more passengers to ensure they're able to get to and from important medical appointments as we work to cut the health care transportation gap in half by 2020 and improve people's lives with the world's best transportation."
With the added capability of requesting personal medical transportation for patients via Lyft, representatives from Acuity Link anticipate their software will be a valuable resource for skilled nursing facilities and nursing homes needing to coordinate alternative transportation for patients. Often, patients who are ambulatory get transported out of nursing homes via wheelchair van services because most ambulance providers who serve them don't provide ambulatory medical transportation.
Health care facilities currently using Acuity Link's software solutions report seeing improvements in patient experience and a reduction in the time to book transport requests by nearly 75 percent.
For more information about Acuity Link and the company's software solutions, visit www.acuity-link.com/.
About Lyft
Lyft was founded in June 2012 by Logan Green and John Zimmer to improve people's lives with the world's best transportation. Lyft is the fastest growing rideshare company in the U.S. and is available to 95 percent of the US population as well as in Ontario, Canada. Lyft is preferred by drivers and passengers for its safe and friendly experience, and its commitment to effecting positive change for the future of our cities.
About Lyft Business
Lyft Business offers travel, commute, event, and courtesy ride solutions that provide customers with the tools they need to reduce cost, save time, and streamline their transportation programs. We partner with thousands of organizations to create unique solutions to move their people, from employees and customers to patients and students. To learn more about Lyft Business, visit: https://www.lyft.com/business
About Acuity Link
Founded in 2015 by a seasoned team of emergency medical service and health care professionals, Acuity Link offers a HIPAA-compliant dashboard, which automates the process of ordering all levels of NEMT. The company's digital platform can manage logistics for multiple transportation providers by levels of care and modes of transportation, and ensures contractual obligations are met by automating service level agreements. Acuity Link's technology utilizes customizable vehicle assignment logic, real-time integration with dispatch systems and automated medical necessity authorizations to allow health care institutions to instantly access the closest available and suitable transportation resources for patients. With Acuity Link, health care institutions can easily schedule on-demand, recurring and multi-destination transportation for patients, which results in a more efficient and reliable discharge process and improved patient throughput. Acuity Link's dashboard is equipped with robust reporting and analytics tools driven by automatic geo-fence triggers and cloud-based, real-time data. The analytics dashboard aggregates accurate, actionable information for decision makers.
The company is headquartered in Massachusetts and serves various health care institutions in the U.S., ranging from academic medical centers, free standing clinics, skilled nursing facilities and ambulance and wheelchair accessible medical transportation providers.
Acuity Link is fully compliant with HIPAA laws and provides various levels of encryption, which meet or exceed industry requirements for protecting patient information.
Press Contact
Name: Justin Mayfield

Phone: 813.279.8335

Email: justin.mayfield@judgepr.com

Website: http://judgepr.com/
Original Press Release.