To celebrate the launch of six new kinds of American made Castile soap, Dallas Hudson Natural Soap Co. is inviting the unwashed masses to enter the 'Shower With Greatness' classic black T-shirt giveaway.
Unscented bars include Man In Black™ activated charcoal soap, Easy Does It™ shea butter soap, and Sow And Reap Anew™ oatmeal goat milk soap. Naturally scented bars include Morning In America™ orange citrus soap, Great Blasket™ eucalyptus spearmint soap, and Alive And Kicking™ lemongrass soap. Unisex gift sets and a boxed assortment are also available for the upcoming Christmas season.
The brand's namesake, Dallas M. Hudson (1892-1978), is an ancestor of the founders who as a boy was disfigured in an accident involving lye, which is essential to old school soap making. "By 'hard folk' we're talking about strong character, not necessarily hard bodies", says president and co-founder Alice Ruffolo. "If Uncle Dallas could carry on for 80 years in spite of such a serious setback, then anyone can. That's what we call hard folk," her husband Neil adds. As his legacy, Dallas Hudson Natural Soap Co. provides men and women with a little inspiration to wake up, soap up and take on each new new day.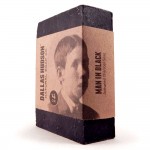 Aged four to six weeks Dallas Hudson soap is crafted in smaller batches the way your grandfather knew it with no synthetic detergents, whiteners, preservatives, or common allergens. And 100 percent of the naturally occurring glycerin is retained in every bar to leave skin feeling clean, nourished and healthy.
About Dallas Hudson Natural Soap Co.
Dallas Hudson LLC (www.dallashudson.com) is an independent purveyor of eco-friendly bar soaps free of artificial chemicals, colors and perfumes. Those who want cute shapes, swirly colors, or little toys inside their soap should keep looking. Made in America with no synthetic detergents, whiteners, or toxins, the stoic rectangularity of Dallas Hudson hard soap means quality comes first.
Read full release at PRUnderground.com: Dallas Hudson Introduces Eco-Friendly 'Hard Soap For Hard Folk' With T-Shirt Giveaway.