Several big investment firms said yesterday (Tuesday) that they are buying stakes in a Bitcoin hedge fund - yet another sign that major players in the investing world are getting serious about the digital currency.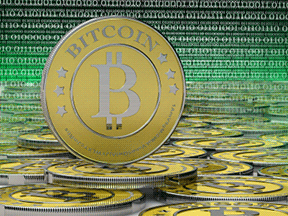 Fortress Investment Group, with about $58 billion in assets under management, along with venture capital firms Benchmark Capital and Ribbit Capital, are teaming up with San Francisco-based Pantera Bitcoin Partners LLC, a hedge fund operator that buys and sells digital currencies like Bitcoin.
Pantera reported in a December filing that its Bitcoin hedge fund was worth $147 million, nearly three times the size of another major U.S.-based Bitcoin hedge fund run by SecondMarket.  
Pantera Chief Executive Officer Dan Morehead said his company, which was founded in 2003 as a macro hedge fund operation, has completely shifted its focus to digital currencies.
"We're very excited about the promise of Bitcoin and how it can transform the way we move money," Morehead told The New York Times. "The promise and possibilities here are very broad."
Note: The world's reserve currency isn't going anywhere, but it's about to be worth a whole lot less. Here's why the end of the dollar isn't the end of the world...
The investment by Fortress in the Pantera Bitcoin hedge fund isn't a huge surprise, as the firm had already bought $20 million worth of bitcoin last year. Undeterred by the recent decline in Bitcoin prices, Fortress is taking a longer view.
 "In our business, we closely follow developments in trading, exchanges and global commerce, and we see potential for the broader adoption of Bitcoin and related technologies to reshape the global payment space," Michael Novogratz, a Fortress executive, told the Financial Times.
The Bitcoin hedge fund partnership is the second major development in the past two weeks revealing a growing interest in the digital currency on the part of professional investors.
Last week telecommunications provider Perseus Telecom and digital currency trading platform Atlas ATS launched a globally integrated Bitcoin exchange system in New York, Hong Kong, and Singapore.
Perseus is providing high-bandwidth lines that will allow investment firms to conduct high-frequency trading in Bitcoin, much as they do with stocks.
What do you make of increasing attention that Bitcoin is getting from major investment professionals? Do you think Bitcoin is getting closer to going mainstream? Tell us on Twitter @moneymorning or Facebook using #bitcoin.
The rise of Bitcoin hedge funds is great for pro investors, but how can regular folks invest in Bitcoin? The wait is almost over, thanks to twins Cameron and Tyler Winklevoss.  Here's why the Winklevoss Bitcoin ETF will be a game-changer...
Related Articles:
Tags:
bitcoin
,
Bitcoin ATMs
,
bitcoin community
,
Bitcoin ETF
,
bitcoin exchange
,
Bitcoin hedge funds
,
bitcoin mining
,
Bitcoin News
,
Bitcoin Prices
,
bitcoin trading
,
bitcoin wallet
,
buy bitcoin
,
buying bitcoin
,
digital currency
,
Investing in Bitcoin
,
Mt Gox
,
Who Accepts Bitcoin
,
Winklevoss Bitcoin ETF
The post Bitcoin Hedge Fund Partnership Shows Interest from Pro Investors Rising appeared first on Money Morning - Only the News You Can Profit From.