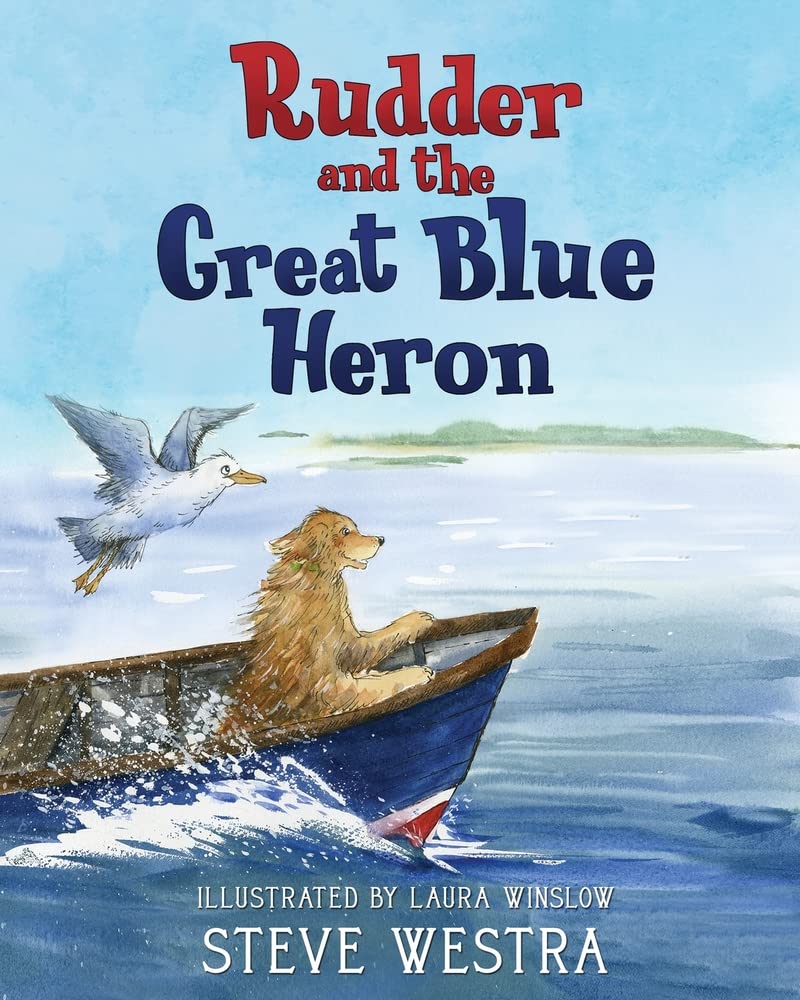 "Rudder and the Great Blue Heron" by Steve Westra has been released worldwide. This 34-page children's book, illustrated by Laura Winslow, tells the charming story of Rudder, a young golden retriever moving to a new home on Chebeague Island in Casco Bay, Maine. As Rudder arrives on the island, he begins to make friends with the various people and animals who reside there. In his first days around his new home, Rudder meets seals, loons, another golden retriever, a ten-year-old girl, an elderly woman, a horse, a porcupine, the titular great blue heron, and beyond. He wants to be friends with each character he encounters, but quickly learns each new friend has different traits, and needs to be interacted with in their own unique way.  
As Rudder makes new friends, the key theme of the book emerges. Westra reminds readers of all ages appreciating differences and approaching new experiences with an open heart can lead to fulfilling relationships. Rudder understands he can't play with each new friend in the same way, and the lessons he learns provide an easily understood metaphor for kids as they meet new people and form their first friendships. Inspired by his mother's "open door" approach to welcoming visitors and his own experiences working with refugees, the author celebrates diversity through a range of characters both animal and human, all of whom have their own backgrounds, strengths, and ways of interacting with the world. 
The messages of patience, acceptance, and learning how to engage with others are made even more powerful by a heartwarming story and beautiful illustrations. This wonderful book provides an essential lesson for kids, and an important reminder for their parents too. Everyone could stand to be a little more like Rudder! Rudder and the Great Blue Heron (ISBN: 9781958729199) can be purchased through retailers worldwide, including Barnes and Noble and Amazon. The hardcover retails for $19.99. Review copies and interviews are available upon request. Wholesale orders are available through Ingram. 
About the author:
Steve Westra has volunteered for many years in a classroom as a tutor teaching English as a Second Language (ESL) to refugees and asylum seekers from Africa, the Middle East, and South America. Far from a "second language," English is often the fifth or sixth language learned by these students. He is grateful for all he learns about the common ties of humanity from students who persevere against great odds to be vital contributors to our community. 
Steve's career included designing communities as a Town Planner followed by working for the US NAVY. He supports the work of NAVY public shipyard workers and sailors in the overhaul and maintenance of NAVY ships. Steve lives on Chebeague Island, ME with his wife Beth and Rudder. Their children Katie and Peter are grown and starting their own families. Grandchildren Ceci and Conor joyfully ring in the next generation. 
About the illustrator:
Laura Winslow grew up in New York and studied Advertising Art. Illustrating children's books was always a dream of hers. After raising children and teaching grandchildren how to enjoy the world of art, Laura was asked to illustrate books and off she went. Laura has worked with authors and publishers from Oregon to Maine and currently creates, paints, and illustrates in Indiana. "Dreams come true! Never stop dreaming – and keep drawing!"
Find Laura's art online at www.etsy.com/shop/WatercolorTales
About NH book publisher Seacoast Press: 
NH book publisher Seacoast Press provides authors with traditional-quality book publishing services while allowing authors to retain publishing rights and 100% royalties. Seacoast Press' wide variety of publishing services includes book design; editorial; printing; distribution; publicity; and marketing. Seacoast Press books are available through retailers and booksellers worldwide. All Seacoast Press books can be purchased wholesale through Ingram.
To learn more about Seacoast Press, the premier book publisher in NH, visit http://www.seacoastpress.com/.
Media Contact
Company Name: SeacoastPress.com
Contact Person: Jen McNabney
Email: Send Email
Phone: 603-546-2812
Address:1 New Hampshire Ave Suite 125
City: Portsmouth
State: New Hampshire
Country: United States
Website: https://www.seacoastpress.com/