Can Demand for Electric Vehicles in China Boost this ETF?
October 15, 2020 at 12:05 PM EDT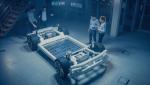 Tesla might have the market share when it comes to the U.S., but other companies around the globe are emerging to become a global powerhouse in the electric vehicle space. One of those companies, Nio, is helping to spur demand for electric vehicles in China, which bodes well for certain...