Does the Recent Market Environment Favor Active ETFs?
September 29, 2020 at 11:21 AM EDT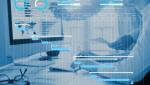 ETF Trends recently caught up with James Norungolo, Investment Specialist, U.S. Equity at T. Rowe Price, to discuss whether the recent market environment has favored active ETFs. Rowe Price debuted four actively managed ETF strategies in August 2020 — the T. Rowe Price Blue Chip Growth ETF...