atisfy, leading provider of data-driven technology solutions, has been named one of the 10 Best Service Providers of the year 2020 by CIO Bulletin.
(PRUnderground) September 26th, 2020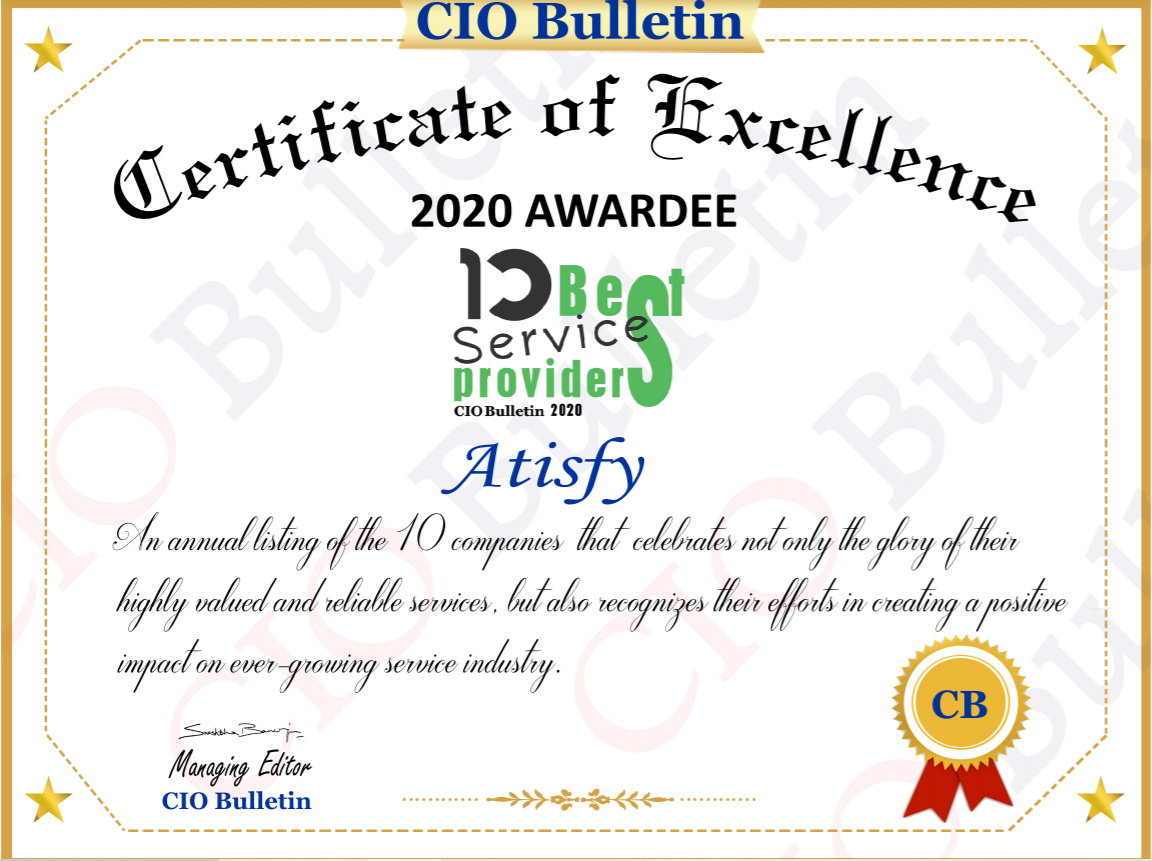 atisfy, leading provider of data-driven technology solutions, has been named among the '10 Best Service Providers for the year 2020' of CIO Bulletin.
The CIO Bulletin's '10 Best Service Providers 2020' annual list identifies and celebrates highly valued and reliable service providers, recognizing their efforts in creating a positive impact on ever-growing service industry. atisfy has been selected based on their industry dominating services, brand reputation in the global market, openness to innovation, domain influence, and ability to understand the market and its customers at a deeper level.
Hersh Bhatt, CEO of atisfy, said, "We are truly honored and humbled to be named among the 10 Best Service Providers for 2020 by CIO Bulletin. We proudly call ourselves an 'innovative marketing mastermind' as our full-service digital marketing solutions offer exponential business growth to our clients. We expertise in crafting end-to-end campaigns, based on our expertise in data science and understanding of the industry trends, to help our clients stay ahead of the curve." He added, "When a client works with atisfy, he gets a smart plan and a seamless experience tailored for success – and we promise to keep it that way!"
The brand was launched in 2018 as data-driven video game marketing agency, Game Marketing Genie, with a focus on leveraging its deep expertise in data science, understanding of the industry trends, audience behaviors and emotional triggers to develop marketing strategies that deliver strong results to its clients. Since then the brand has expanded into atisfy, with subsidiaries Game Marketing Genie and Growth Marketing Genie, to offer a full-service range of marketing and advertising solutions that seek to develop end-to-end campaigns for brands across a variety of industries from start-ups to large enterprises. With a sharp focus on the clients' needs and values, and having a bias for action over analysis, atisfy continues to dominate the market and empower businesses to reach their target audience through technology, data and human psychology.
For more details visit:
https://www.ciobulletin.com/magazine/atisfy-the-innovative-marketing-mastermind
About atisfy
atisfy is a data-driven technology company that powers global brands to drive more sales on social media through its industry-leading and advanced influencer marketing platforms atisfyreach

and atisfyre

. Brands can use atisfyreach

to discover and collaborate with influencers on atisfyre

to create trusted content and insights for customer journey touchpoints at scale. atisfy is headquartered in Singapore and has offices in Australia and India.
To learn more visit:
www.atisfy.com
reach.atisfy.com
fyre.atisfy.com
The post atisfy® featured in CIO Bulletin's '10 Best Service Providers 2020' list first appeared on PRUnderground.
Press Contact
Name: Hersh Bhatt

Phone: +61431699429

Email: Contact Us

Website: http://www.atisfy.com
Original Press Release.