Could Big Tech Be Headed For A Fall?
July 10, 2020 at 14:37 PM EDT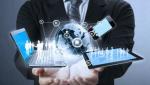 Could Big Tech be getting overcooked and ready for a massive pullback? Former Facebook executive Chamath Palihapitiya seems to think so. On Friday Palihapitiya, founder and CEO of investment firm Social Capital, explained why he sees significant risk for the tech giants like Facebook and...