Is Being Bullish on Large Caps the Place to Be in Today's Market?
April 21, 2020 at 10:49 AM EDT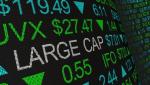 The coronavirus pandemic is putting a bearish spin on large cap stocks, but their small cap counterparts' pain is even more magnified. That said, being bullish on large caps might be the place to be in today's market. "For instance, while the S&P 500 and Dow Jones Industrial Indexes...